The Grand Cities of the region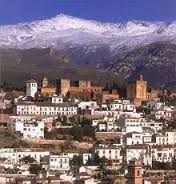 For those of our guests that is keen on shopping, art, history and culture – Malaga and Marbella is only 30 min from the farm. Here you can combine the urban puls with an afternoon at the beach.
In Malaga, you will find the old city with classical Spanish plaza, alleyways, coffee shops and restaurants. The harbour area is now been modernised with a nice park, restaurants, and areas just to relax. Malaga is a relatively big city with 600.000 inhabitants, but the city centre is quite small and there is walking distance to most of the "must do's". The City has also a Picasso museum.
Granada and Alhambra is less than 2 hours from La Urraca. Granada is one of Europe's most exciting cities when it comes to history, architecture and culture. Granada is first and foremost known for the old Moorish palace Alhambra, but you will also find magnificent architecture from the period after the Christian re-conquest of Spain in 1492. In the old part of the city you will find unique Spanish architecture from both the period before and after 1492. If you like to visit Alhambra, you need to book well in advance, especially in the high season.
Cordoba is a two-hour drive from La Urraca, and the same goes for Sevilla. If you take the fast train, you can even do Madrid in one day.
It is not only the grand cities that is worth a visit. La Urraca is surrounded by classical medieval white villages, like Alora, Alhaurin Grande, Ronda and Istan, just to mentioned a few of them. Our own village – Casarabonela is only 5 minutes away. It is a traditional Spanish village far away from the touristy coastline, with a charming square and a few restaurants. The village resides in the hillside and the view is magnificent.